Article published 06/02/2023
Introduction from Annique Armstrong, Interim Regional Director
Welcome to the first regional update of the year. In this update, we look back at our key activity in the last quarter of 2022. Our industry continues to adjust to tough new financial circumstances and it is clear that these will continue to impact in the year ahead.
But there is much to build on and we remain committed to doing what we can to support the industry, whether that's bringing people to Scotland, offering support and guidance to businesses, or creating opportunities for growth and investment.
Our marketing, funding and business support activities are all aimed at building on these shoots of recovery to support the responsible growth of our industry.
It has been a busy period in the South of Scotland – from the launch of our film guide to our support for the South of Scotland's inclusion in the Lonely Planet Best of Travel Guide for 2023 and much more.
Find out more in this regional update on how all our work is helping to support the ambitions of the national tourism strategy, Scotland Outlook 2030, for Scotland to be a world leader in 21st century tourism.
Hear from the staff at our iCentres
Jedburgh iCentre report

October saw the last of the regular coach groups that stop off in Jedburgh and we hope to see them return next season. We were able to promote the Great Days Out offer to visitors over the Winter months, which was popular with families. Events such as the Ultramarathon 3 Peaks Run to the Eildon Hill, Scott's Selkirk and Farmers Markets also helped bring visitors to the area.

The start of the year saw visitors from Indonesia touring the area. They had been in Scotland for Christmas and New Year and had been delighted to see snow on their visit. Of particular interest were visitors with links to Jedburgh, one who had an ancestor who was governor of Jedburgh Jail and another family from the Bahamas who had local links. We even had an Ice Road Trucker in as well as a location scout for Outlander.
The staff at Jedburgh iCentre
We had more local visitors in the iCentre as we sold tickets for the local instrumental band concert, and our friends and family promotion again proved popular for Christmas gifts. We have received lots of positive feedback from visitors for the help they received as well as for the displays and layout of the iCentre. Christmas Jumper day was also a highlight for the team.
We have had a visit from the Go Tweed Valley team who we hope to work with in the future. Over the period Siccar Point in Berwickshire has been listed as one of the Top 100 geology sites in the UK, and as James Hutton has links to Jedburgh, we might also see more visitors from this. We have also had some bulk sales of ice cream, despite the cold weather.
We have created displays on Robert Burns and our local Hand Ba' Day which hopefully have been of interest to our visitors. We look forward to the lighter nights and better weather, as well as a planned trip to see what is on offer at Schloss Roxburgh in the next quarter.
Dumfries iCentre report

Dumfries had a very positive close to the year. Always a great time to catch up with learning and development and to look ahead to the coming year.

Visitor numbers and retail exceeded 2020 and 2021, not quite at 2019 levels but we're getting there!

Staff attended events during the Wild Goose Festival. And the launch of two new initiatives led by The People's Project – re-interpreting parks and historical areas around Dumfries and encouraging more visitors to the town. We also enjoyed a fam trip to the Annandale Distillery.

250 Visitor Packs were prepared to welcome competitors and their families to events at the Dumfries Ice Bowl.

The Network Office team got together for a litter pick at Cuckoo Bridge in the town.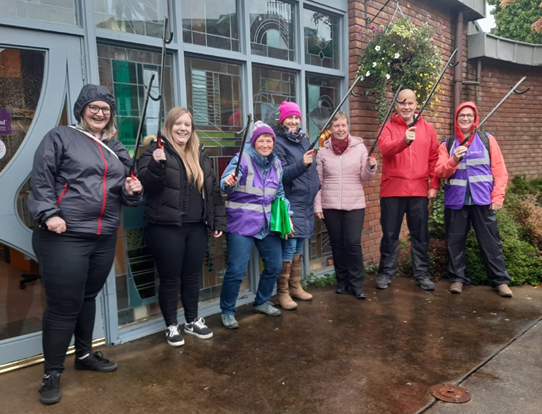 The team off to pick litter in Dumfries
We received a number of great reviews including: "The staff is one of the most helpful and friendly I have ever encountered in the world. There is so much to see and learn about Dumfries and the surrounding area! Their gift shop has won me rave reviews for the Scottish presents I have sent to people from here (the scarfs and brooch sets are spectacular and reasonably priced). You must come and visit if you are anywhere near here."
The weather proved challenging, with high winds taking away our pavement signs in October and then flooding on 30th December. Water levels were at their highest since 1985. We were relatively lucky as water came into the building, but not as seriously as for our neighbours, and we are now, (almost), back to normal.
Looking forward to the summer we had a couple of great catch-ups with Tom Bishop about the World Cycling Championships. Something to really look forward to.
What's been published on visitscotland.org?
Here's an overview of some of the new and updated content on visitscotland.org which features the South of Scotland: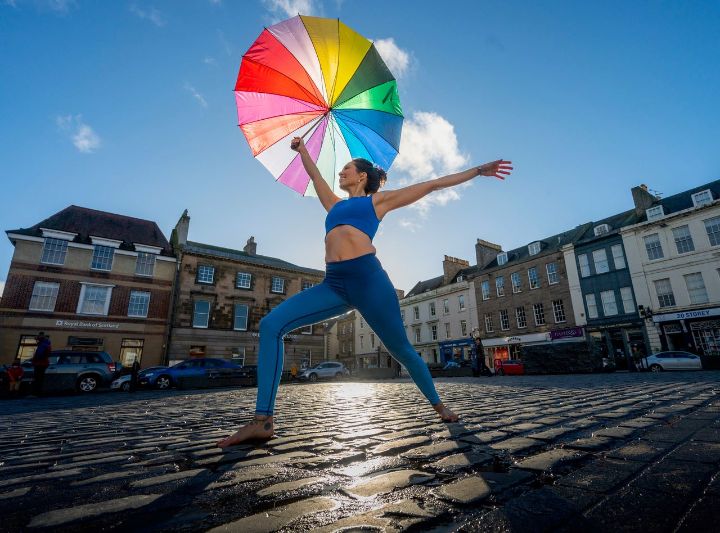 Yoga instructor in Kelso town square
World cycling championships banner
Corporate PR - latest activity
Lonely Planet accolade

We worked with partners to promote the South of Scotland's inclusion in Lonely Planet's Best in Travel list for 2023.

The story was covered extensively by the national and regional press, including BBC online and Director of Industry & Destination Development, Rob Dickson, was interviewed for BBC Radio Scotland and the Bauer network.

Op-ed from Annique Armstrong

An opinion editorial from Annique Armstrong was issued to regional media at the end of the year, highlighting the tourism industry's resilience during these challenging operating times. This was covered in the Border Telegraph.

Scotland's UNESCO Trail

We promoted Scotland's UNESCO Trail – which includes the Galloway and Southern Ayrshire UNESCO Biosphere – receiving an international award in recognition of its sustainable development.

By now, you've probably heard of Scotland's UNESCO trail. It encourages visitors to experience our UNESCO designations, which includes six orld heritage sites, two biosphere reserves, two global geoparks and three creative cities. You can visit the website to find out more about the UNESCO designations.
New and updated blogs featuring the South of Scotland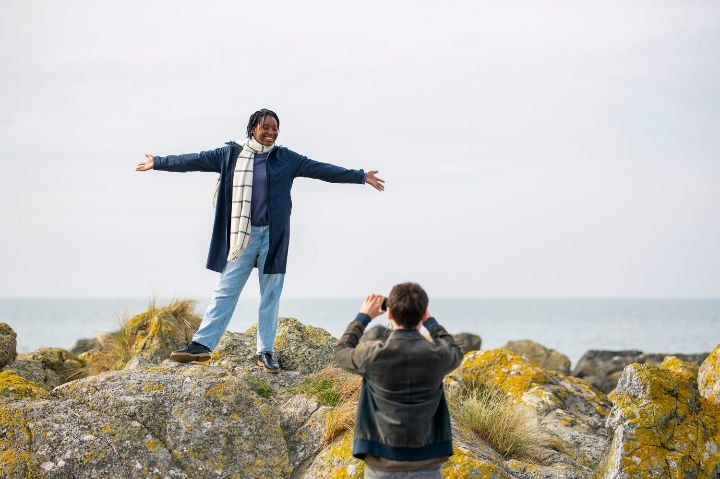 Couple take pictures on holiday in the South of Scotland
Inspire your visitors and refresh your website and social media by sharing our blogs. We create new blogs regularly which feature on visitscotland.com. We've included the South of Scotland in these latest articles:
Global PR Highlights
Across all markets

The Witch Trail activity was launched in the lead-up to Halloween and generated over 80 pieces of coverage across markets to date. It included locations in South of Scotland such as Abbotsford in the Borders and Galloway Wild Foods in Dumfries & Galloway.

Abbotsford featured in a photo shoot the team held ahead of launching the trail. The inspiring imagery featured both the library and the gardens and was picked up widely by media across all markets.

Example coverage from Europe:
UK
Working with Trainline, the team arranged a press trip for a writer to cover Melrose for the 'I newspaper's' Weekend Wonders series. Coverage features Abbotsford as well as the Mainstreet Trading Company.
Wigtown's bookshops were included in a round-up of the best independent shops for buying Christmas gifts in the Observer.
New south of Scotland cycle route included in What's New for 2023 communication with great coverage so far including the Guardian print and online.
South of Scotland on our social media (Oct - Dec)
3.43 million
Social reach for the South of Scotland
176,000
Number of reactions, likes, comments, shares and saves for Dumfries & Galloway
387,000
Top performing post featured Scott's View
Year of Stories 2022
The year of stories launch image
The end of 2022 has closed the book on the Year of Stories, however there's a wealth of resources and information on VisitScotland.org to continue the legacy of the Year.
In case you missed it, Dumfries & Galloway-based Mostly Ghostly featured within a story on new initiatives and campaigns created by tour operators and attractions across Scotland. Take a look.
Regional marketing highlights

Great Days Out in Scotland
Our regional marketing teams are working closely with Historic Environment Scotland, ASVA and Scotrail, to offer discounted rail travel and entry to participating attractions across the south of Scotland. Running until the end of March, you can still view the toolkit for more information on how you can submit an offer.
Coast to Coast Cycle Route
VisitScotland has been supporting the South of Scotland Destination Alliance, South of Scotland Enterprise, Sustrans and the two local authorities across the south on the development of the new coast to coast cycle route between Portpatrick and Eyemouth, which is due for launch later this year.
Scotland's UNESCO Trail
We had a successful end to the year for Scotland's UNESCO Trail, forming part of a well-received Parliamentary Reception in December attended by representatives from a number of designations and MSPs.
Strong engagement from paid media activity in the UK, France and Germany, which included activity with Wanderlust and the Trail has so far won two awards - Fondazione Santagata Award for sustainable development projects and the UK - Wanderlust Sustainability Award.
The final phase of paid media activity, across publishing, partnerships and PR, runs between January and March.