Article published 05/08/2022
The Scottish Thistle Awards, Scotland's premier tourism and events awards, are making a welcome return this year. The 2022/23 Scottish Thistle Awards were launched in March to shine a spotlight on individual businesses and people working within the tourism & events industry, worth £11.5 billion to the Scottish economy.
The awards, which for the first time this year include a media partnership with News Scotland, feature 17 national and regional categories covering accommodation providers, hospitality businesses and events and festivals to visitor attractions and luxury experiences.
The team at Johnstons of Elgin attend the Scottish Thistle Awards final
Delivered by national tourism organisation VisitScotland, the Scottish Thistle Awards combine regional awards, including the Highlands and Islands Tourism Awards (HITA) and the Aberdeen City and Shire Tourism Awards (ACSTA), with a national final.
World-renowned luxury cashmere and fine woollens manufacturer Johnstons of Elgin has been running its mills in Elgin and Hawick for over 200 years and is headline sponsor of this year's Scottish Thistle Awards. The heritage brand is a keen champion of the awards and has previously sponsored the Silver Thistle category. Here, George McNeil, Johnstons of Elgin Managing Director of Retail, outlines what sponsorship of the awards means to the company and the value of the awards.
Q&A with headline sponsors Johnstons of Elgin
Q: What is Johnstons of Elgin's role in this year's Scottish Thistle Awards and what does it mean for your company?
We have been involved in the Scottish Thistle Awards for many years as entrants and supporters and this year, a rare and welcome opportunity arose to become the headline sponsor. We have sponsored different categories in previous years and recognise how much the awards mean to Scotland's tourism and events industry.
Becoming headline sponsor affords us the unique opportunity to raise our profile amongst our fellow tourism businesses as a great location for their guests to visit and experience. We are proud and excited about the relationship we have with the Scottish Thistle Awards and Scotland's tourism industry.
Q: Why are the Scottish Thistle Awards so important for tourism and events businesses in Scotland?
The Scottish Thistle Awards play a significant role in celebrating the people working within Scotland's tourism sector and the role industry plays in all aspects of life – creating jobs, sustaining communities and contributing towards the economy. The awards ensure tourism stakeholders are recognised for all their hard work and investment and cover all sectors and areas of Scotland, meaning that even the most remote locations and smaller businesses can be fully recognised for their significant contributions.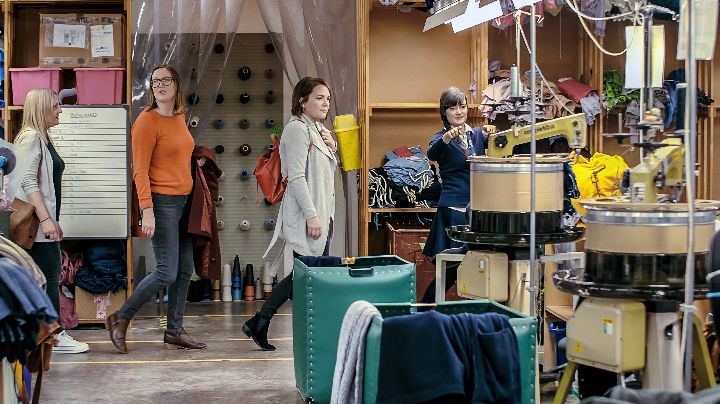 Visitors on a tour at Johnstons of Elgin, Hawick.
Q:Responsible tourism is at the heart of this year's Scottish Thistle Awards. What does this mean for Johnstons of Elgin?
Johnstons of Elgin is celebrating a landmark 225 years of manufacturing excellence in 2022. Since 1797, the Johnston family name has been synonymous with quality, craftsmanship, sustainability and innovation.
Over the past 225 years, the company has defined and redefined the industry and we are always looking at how we move forward sustainably within our communities to ensure we are here for the next 225 years.
Q:What are you looking forward to in particular during this year's Scottish Thistle Awards programme?
We have all been through such difficult times recently, especially the tourism sector, which has seen a dramatic drop in footfall. It will be great to see the industry coming out in significant numbers to support one another on our journey to recovery.
Image: VisitScotland Chairman Lord Thurso and Stewart Marshall, Sales & Operations Manager at Johnstons of Elgin, on a recent visit to announce the sponsorship