Article published 01/09/2022
Our Shop Local retail initiative celebrates its fifth anniversary this year.
First launched in May 2017, Shop Local was quickly rolled out in our iCentres across Scotland and since then, more than 320 local crafters have joined the initiative. This provides a platform for us to work with local artisans and craft makers who have a positive social and environmental impact, to promote and sell their products to visitors through our network of iCentres.
What visitors want when buying gifts or mementoes on their holidays is evolving, with a focus on well-made, local craft and a connection with Scottish products, people and stories.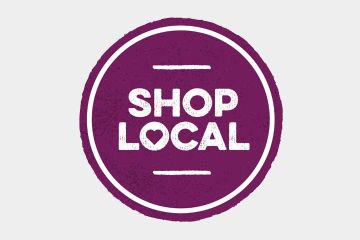 The Shop Local Initiative
The Shop Local initiative works with local artisans and craft makers who make a positive social and environmental impact and offers them the opportunity to promote and sell their products to visitors via our iCentre network.
It's aimed not at the already-established Scottish designers but at regional artisans without a retail platform, and creates a unique sales channel for small businesses producing 'Made in Scotland' products. This offers visitors the chance to take an authentic, and locally-produced, piece of Scotland home with them.
We currently work with 326 suppliers across 26 sites (including 126 suppliers in the eight island centres which accounts for over 38% of sales). Our Lerwick iCentre alone has 32 Shop Local suppliers, and Kirkwall has 23.
A taste for local craft and communities
Shop Local not only benefits Scottish artisans, but also the environment. Products are often hand delivered to the iCentre by the supplier, thus reducing the impact of transport. Our suppliers enhance the natural and cultural heritage of their region, often employ within their local communities and foster sustainable ways of making their products as part of their business model.
Those working with Shop Local create and sell a wide range of diverse products, including soy coconut wax candles, watercolour illustrations, handmade dog treats, loose-leaf teas, jewellery and brooches, needle-felt gift sets, seaweed and sea salt, whisky barrel crafts and whisky accessories, prints and notecards, knotted-basket kits, locally-written and illustrated books, organic lip balms and soaps and traditional handmade boiled sweets.
Joan Fraser has been Shop Local's most popular artist in the past few years. In the last year alone, our iCentres have sold over 130 of her Fair Isle scarves, wrist warmers, cowls and headbands. Sales of Joan's work account for 5% of sales within our Lerwick iCentre.
Visitors are always looking for an authentic taste of Scotland, with food and drink items taking over 5% of all sales. And it's not just our human visitors that are catered for - we've partnered with two local dog biscuit suppliers in the last year and we've sold over 900 packs of dog treats.
The initiative also supports local projects and charities. The initiative collaborated with the 'Light the North' Lighthouse Trail by Clan Cancer Support in 2021, providing a sales platform for the charities sticker books in four key iCentres along the lighthouse trail route in Aberdeen, Ballater, Kirkwall and Lerwick.