Major events benefits
In 2003, EventScotland invested in its first major event – the MTV Music Awards. This event was held in Leith, Edinburgh and watched by 27 million people worldwide.
Since then, Scotland has continued to build on its reputation as a world-leading events destination.
National Events Strategy
In 2008, the game changing National Events Strategy, Scotland The Perfect Stage, was launched. This has been critical to Scotland's success. Its dynamic Team Scotland approach has ensured that we have continued to develop as an events host year-on-year, generating both economic, media, cultural and social benefits.
Visit our National Events Strategy page for more information on Scotland The Perfect Stage.
In 2023, the Scottish Government, EventScotland and their VisitScotland colleagues, and the Scottish event sector are working together to review and update the strategy.
A public consultation invited anyone who has a connection with the events industry to provide feedback on a range of areas including priorities for the sector in Scotland. This included accessibility of events, working in events, collaboration and innovation and how events can further promote cities, regions and Scotland as a whole.
A year to remember
2014 was a year to remember. Glasgow welcomed the world to the Commonwealth Games. The Ryder Cup brought more than 250,000 visitors from 96 countries to our shores. We also celebrated the Year of Homecoming with events taking place across Scotland.
The Commonwealth Games was a catalyst for securing major events for Scotland, both in the lead up to and in the following years. This was key in boosting the local and national economy and cementing Scotland's international profile as a world-class destination for events, tourism and business.
Brand new state-of-the-art venues such as the Emirates Arena and the Sir Chris Hoy Velodrome were built. These venues have since hosted the likes of the 2018 European Championships, Davis Cup, the 2019 European Athletics Indoor Championships, UCI Track Cycling World Cup and many more.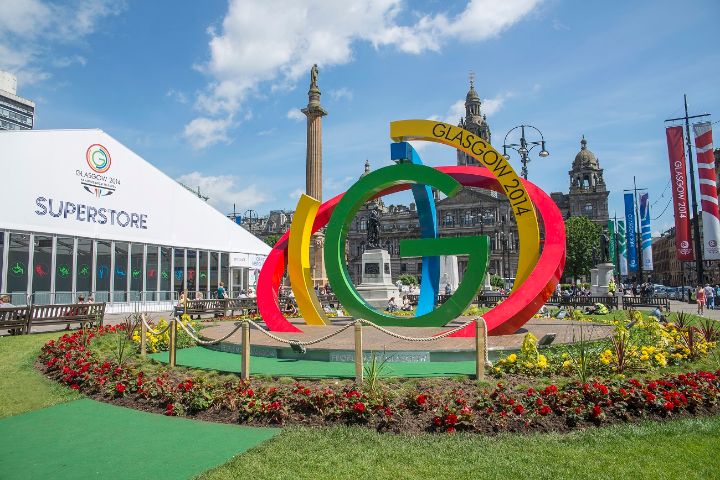 2018 European Championships
Perhaps most significantly, Glasgow and Scotland broke new ground with the inaugural 2018 European Championships. This innovative approach to developing new models for event delivery has a bright future with Scotland hosting the 2023 UCI World Cycling Championships. This event will brought 13 individual world championships into one combined event for the first time ever, in August 2023.
What did The 2018 European Championships deliver?
565,000 spectators
in attendance at Glasgow 2018
1.4 billion
TV audience across Glasgow and Berlin
£256 million
PR value for Glasgow and Scotland
The 2019 Solheim Cup
The 2019 Solheim Cup at Gleneagles was another legacy benefit from 2014. The successful bid for this event was submitted by the EventScotland team and backed and underwritten by the Scottish Government.
This became the highest attended women's golf event ever held in the UK with record crowds of more than 90,000. The 2019 Solheim Cup was hailed as the best-ever hosting of the event. It also set a benchmark for staging family-friendly and accessible golf events through its partnership with Euan's Guide.
Furthermore a sustainability action plan was developed with the GEO Foundation to minimise the environmental footprint and conserve biodiversity.
The Solheim Cup fulfilled its pre-event promise of equality, experience and innovation. It achieved this through everything from transport planning to on-course infrastructure and delivery as a result of these initiatives and more.
What did The 2019 Solheim Cup deliver?
10.4 million
global audience
£8.82 million
in net economic impact
£7.83 million
gross value added
257 jobs
full time equivalent jobs
Source: VisitScotland Annual Report 2020
Scotland the Home of Golf
What did The 150th Open deliver?
£300 million
economic benefit generated
290,000 spectators
record breaking attendance
1 of 5
major golf events in the summer of 2022
Source: Independent study commissioned by The R&A, VisitScotland and Fife Council
The benefits of business events
In November 2021 Scotland welcomed the 26th UN Climate Change Conference of the Parties (COP26) to Glasgow. It was the largest business event ever hosted in the UK.
The climate talks brought together heads of state, climate experts and campaigners to agree co-ordinated action to tackle climate change under the Paris Agreement. There were close to 40,000 attendees.
The conference was carbon neutral (carried out in line with the Greenhouse Gas Protocol) using the PAS2060 international standard on carbon neutrality.
The conference not only further showcased Scotland as the perfect host but also demonstrated how business events can also bring significant social and economic change.
22,000 delegates
in attendance at the event
14,000 observers
in attendance
3,800 media
representatives in attendance
What does the future hold?
It has been a ground-breaking journey since 2003 but we are looking to the future. We will continue to work with partners, ensuring this legacy is maintained and Scotland retains its position as a world-leading events destination and is recognised both nationally and internationally as the perfect stage for events.