The Highlands and Islands (including Outer Hebrides, Moray Speyside and Aberdeenshire) have been named a top 10 region in Lonely Planet's Best in Travel 2019.
Best in Travel is Lonely Planet's flagship global multi-channel campaign with an estimated reach of around three billion. It is made up of four core categories – top 10 countries, cities, regions and best value destinations which are promoted via the hardback travel annual (the bestselling travel annual in the world) and a dedicated content hub on www.lonelyplanet.com (11m unique users globally).
The Highlands and Islands are the only UK region to feature in any of the categories for 2019.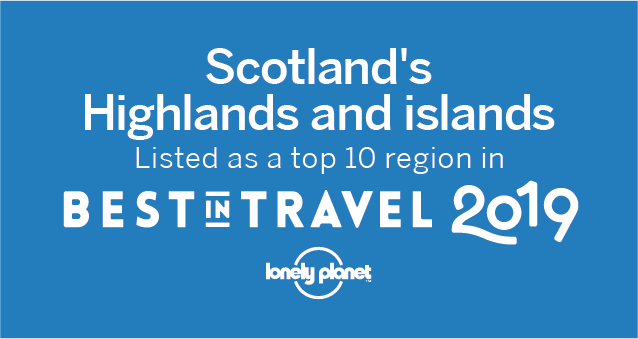 Association Badge
The Association Badge is available for you to use in your own marketing material as per the terms and conditions.
Lonely Planet maintain the copyright for this badge and its use is authorised subject to the terms detailed.
Association Badge
Published: October 2018
Please read the terms and conditions before use.
Useful links
To access a range of free to use images from across the Highlands, Islands, Aberdeenshire and Moray Speyside, please register (for free) with our Digital Media Library.
Our Lonely Planet blog can be found on www.visitscotland.com.